R!L Keynote Address: The Neurobiology of Addiction: View from the Dark Side
When
Sep 15, 2017
from

01:00 PM

to

02:30 PM

Where

Kosair Charities Clinical and Translational Research Building, 101/102

Contact Name
Bonnie Dean
Contact Phone

(502) 550-3928

Attendees

faculty, staff, students, community



Add event to calendar

vCal




iCal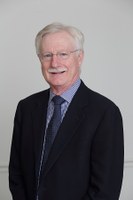 George F. Koob, Ph.D., Director, National Institute on Alcohol Abuse and Alcoholism, Rockville, MD
Keynote Address & Awards Ceremony:  Friday, September, 15th, 1:00 p.m. - 2:30 p.m.
Location:  Kosair Charities Clinical and Translational Research Building, 505 South Hancock Street
Lecture Title:  The Neurobiology of Addiction:  View from the Dark Side
Dr. Koob is an internationally-recognized expert on alcohol and stress, and the neurobiology of alcohol and drug addiction.  At the NIAAA, he provides leadership in the national effort to reduce the public health burden associated with alcohol misuse. 
Dr. Koob will discuss the construct of negative reinforcement, defined as drug taking that alleviates a negative emotional state (hypohedonia, dysphoria, anxiety, hyperalgesia, hyperkatifeia, irritability, sleep disturbances) that is created by drug abstinence, is particularly relevant as a driving force in both the withdrawal/negative affect and preoccupation/anticipation stages of the addiction cycle.  This shift in motivation to negative reinforcement is termed the "dark side of addiction" and is hypothesized to reflect an allostatic misregulation of hedonic tone such that drug taking makes the hedonic negative emotional state worse during the process of seeking temporary relief via compulsive drug taking.
Dr. Koob's research presents compelling evidence to argue that plasticity in the brain's emotional systems is triggered by acute excessive drug intake, is sensitized during the development of compulsive drug taking with repeated withdrawal, persists into protracted abstinence, and contributes to the development and persistence of compulsive drug seeking.