Oct. 28: Understanding Racism in Physical (Biological) Anthropology (virtual)
Office of Diversity and Inclusion presentation
When
Oct 28, 2021
from

12:00 PM

to

01:00 PM

Contact Name
Jon Aaron Moody
Contact Phone

502-852-7181

Attendees

faculty, staff, students, community



Add event to calendar

vCal




iCal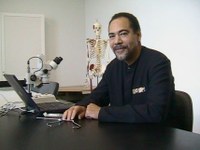 The mainstream of American physical anthropology began as racist and eugenical science that defended slavery, restricted "non-Nordic" immigration and justified Jim Crow segregation. After World War II, the field became more anti-racial than anti-racist. It has continued as a study of natural influences on human variation and, thus, continues to evade the social histories of inequitable biological variation. Also reflecting its occupancy of white space, biological anthropology continues to deny its own racist history and marginalizes the contributions of Blacks. Critical disciplinary history and a shift toward biocultural studies might begin an anti-racist human biology.
Presenter: Michael L. Blakey, Ph.D., National Endowment for the Humanities Professor of Anthropology, Africana Studies, and American Studies; Director of the Institute for Historical Biology; College of William & Mary
Lecture title: "On the Biodeterministic Imagination"
The summary is: Dr. Blakey will discuss the wasted over-emphasis on genetic causes of chronic disease and behavior and there should be increased research on social etiologies.  
 The objectives are (based on Dr. Blakey's article - https://www.cambridge.org/core/journals/archaeological-dialogues/article/abs/on-the-biodeterministic-imagination/071C10B5DFB4F92D653190211FC177ED):
Explain the dangers of archeological collaboration, or intuitive agreement, with biological determinists.
Describe how biological determinism continues to rest on belief rather than evidence.
Explore how the evidence for social criticism and moral accountability for inequity, has been obscured.  
Join the lecture via this link: https://tinyurl.com/4jjs3jx3